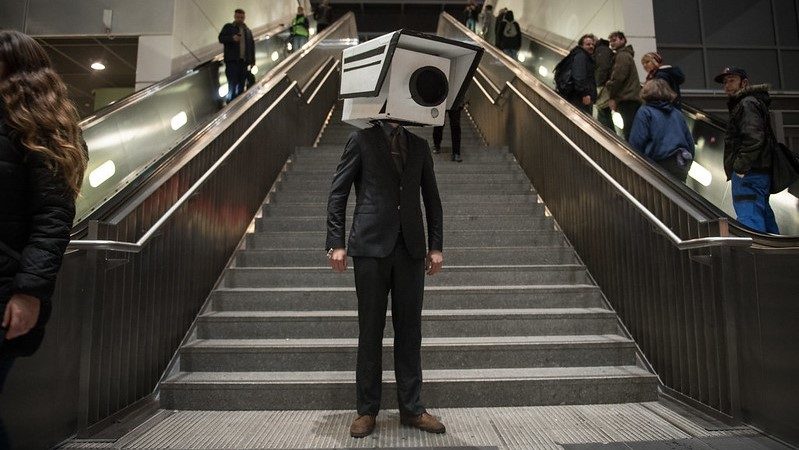 An alliance between civil society and politcians are opposing the (alleged) government plans to expand the automatic facial recognition system across the country, notably because the scurrently available technology remains underdeveloped and could lead to so-called "false positives". Foto: Stefanie Loos [CC-BY 2.0/STEPHANIE LOOS]
Germany's Interior Minister Horst Seehofer plans to use automatic facial recognition at 134 railway stations and 14 airports, according to a news report published on 3 January. Although official confirmation of the plan is still missing, an alliance between civil society and politicians has called for the banning of this surveillance technology. EURACTIV Germany reports.
According to DER SPIEGEL, Seehofer plans to equip 134 train stations and 14 airports with cameras capable of automatically identifying people in crowds in a bid to expand Germany's automatic facial recognition system.
Although the ministry has not officially confirmed the measures, a government spokesman, asked by EURACTIV, stated that an amendment to the Federal Police Act was planned to provide the police with "improved technical possibilities and, where possible and reasonable, extended responsibilities".
And the corresponding draft law should currently be the subject of "internal governmental coordination".
Call for a ban
But opposition to the plan is mounting. Viktor Schlüter, activist and founder of the "Digital Freedom" initiative, created the "Face Recognition Stop" alliance "to show that many people strongly doubt the effectiveness and usefulness of these proposals," he explained to EURACTIV.
Activist groups such as Chaos Computer Club and epicenter.works, alongside the media outlet netzpolitik.org, and also politicians, such as members of Die Linke, are among doubters. On 9 January the group presented its demands to the government.
And they not only demand the alleged expansion of the facial recognition system planned by Seehofer to be stopped but also for a complete and final ban on automatic face recognition in public by the state.
Error-prone
What is their motivation? According to Schlüter, it is because the currently available technology remains underdeveloped and could lead to misidentifications, so-called "false positives".
The interior ministry tested facial recognition cameras as early as 2018 at the Berlin-Südkreuz station. The result was that 80% of the people were correctly identified.
"The systems have impressively proven themselves so that a broad introduction is possible", Seehofer had said at the time.
But the Chaos Computer Club, an activist hacker association, did the math and accused the ministry of whitewashing. According to the association, such a figure could only be obtained if all three technology providers worked simultaneously and supported each other, as the hit rate for a single provider was only 68.5%.
It's the SPD's turn
The leader of the Social Democrats (SPD), Saskia Esken, also warned against such false positives and made it clear on Twitter on 4 January: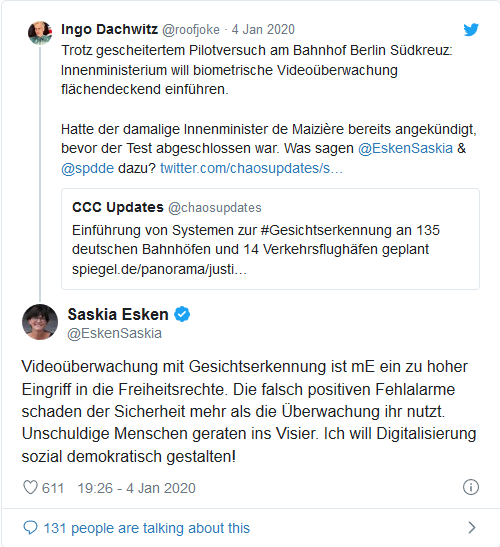 And with the bill in the hands of the SPD-led ministry of justice, the socialists will undoubtedly play a key role.
Schlüter, however, remains realistic. Although he is pleased with Esken's positioning, Justice Minister Christine Lambrecht has "in the past sometimes not been so pro-foundationalist", meaning he is concerned that the SPD could cave in.
This could still, however, be an opportunity, as "the SPD is looking for a profile," meaning it could act "here and now".
Moreover, discrimination could also become a problem. A study by MIT in cooperation with Microsoft showed that false positives are more common among women, children and people with dark skin. That would be system-inherent discrimination.
Last but not least, it is currently effortless to evade identification. Wanted persons would only have to turn their face 15 degrees away from the cameras or partially cover their faces to avoid being recognised.
Chilling Effect
Although such technical problems could be resolved in the future, Schlüter and his group would reject even a perfectly functioning face recognition system for the public, which is why they are calling for a definitive ban. And that is because of public surveillance, in general, has a so-called 'chilling effect', according to them.
"We see great danger in creeping self-restriction," said Schlüter, noting that constant surveillance forces people to adapt their behaviour. He considers this to be unhealthy for democracies since citizens may shy away from political participation, knowing their faces are being stored in relevant databases.
No bad intentions
However, Schlüter made it clear that the government is not being malicious in its intent.
He acknowledged the deterring, rather than the preventative, effect of surveillance, noting that if one place is being monitored, handbags are stolen somewhere else.
But Interior Minister Seehofer sees it differently. After the 2018 tests, he said facial recognition systems would "make police work even more efficiently, thus improving security for citizens".
The ball is now in the SPD's court.
[Edited by Zoran Radosavljevic and Samuel Stolton]
Source: euractiv.com